on
August 3, 2016
at
12:00 am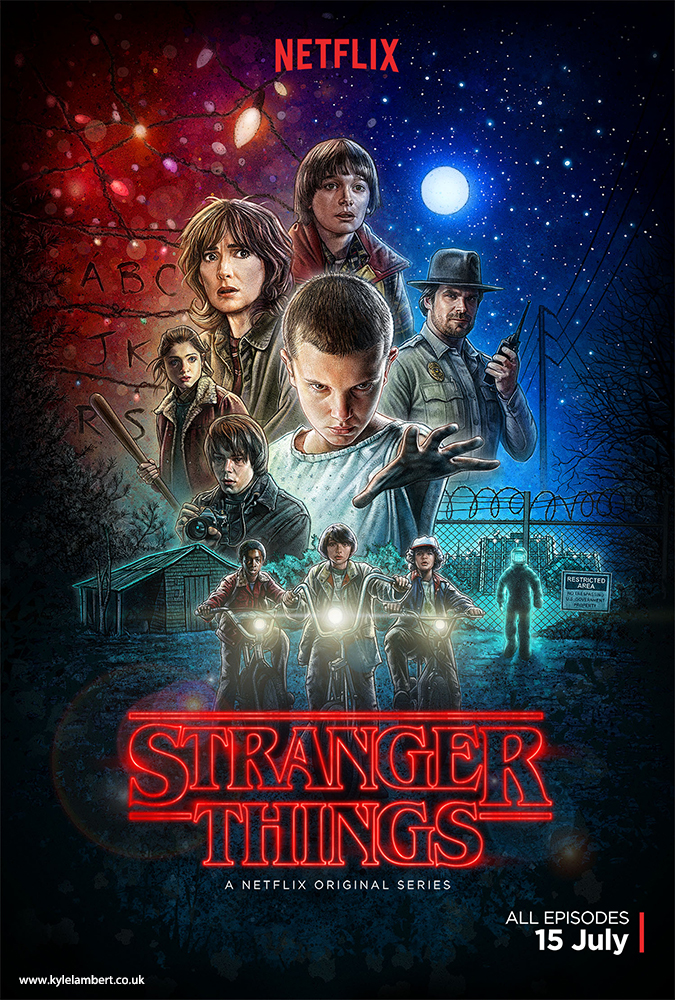 I am a child of the 1980s. I remember rotary phones, cassette tapes, televisions with "rabbit ear" antennae (and no remotes), and the freedom of a good bike to roam the neighborhood. I remember also a time when movie studios kept pumping out awesome flicks starring kids much like me, insisting that little boys might very well befriend an alien from beyond the stars, or build a spaceship in their backyard, or find a lost secret pirate cave beneath their sleepy little town, dodging everything from gangsters to the U.S. government along the way.
With that in mind, the new Netflix original series Stranger Things hits me right between the eyeballs. It's a love letter to the early '80s of my boyhood, both real and imagined. It also owes a substantial part of its DNA to the works of Stephen King, except that King was writing in the '80s about being a kid in the '50s, while Stranger Things jumps that forwards to cross-pollinate with Carpenter, Spielberg, Cronenberg, Joe Dante, and the other luminaries of the pop culture Reagan era.
It works surprisingly well, and not just on a nostalgia level — although there is certainly a half-cringing joy in seeing those green and yellow striped athletic socks and tousled haircuts again, or my completely shameless joy at hearing X-Men #134 namechecked or seeing the blue cover of the D&D Expert Set that lo, I once did own. No, Stranger Things works because it goes beyond merely aping the aesthetics of early 1980s America and its films, it captures the ineffable spirit and charm of them as well. Stranger Things remembers that there was an era where child actors were not just tolerated in a cast but were the leads, and we loved those films because of them, not in spite of them. At the time I'm sure it helped that I was just about the same age as the protagonists of E.T. or The Goonies, but the kids of Stranger Things are relatable little cusses that you can't help cheering for, able and willing to display a wide range of emotion to satisfying effect. The teenage and adult cast are no slouches either, and allow a full gamut of era-specific tropes and imagery to be run through as their seemingly separate stories all weave into one at the end.
Simply put — if you like '80s things, you'll like Stranger Things. And even if you don't or you're ambivalent, I'd still tell you to give it a try, because it has good performances and a good, slow-cookin', creepy story, the kind I'd expect the regular readers of Zombie Ranch to appreciate.
Hell, the Duffer Brothers who created the series were born in 1984, one year after the setting of their fictional tale, but you wouldn't know it. You don't have to be personally nostalgic to appreciate what the show offers. It just helps.