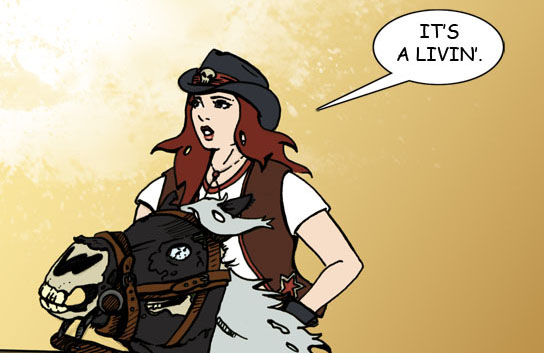 So, you've had a gander at our little project, and you like what you see so far? You want to know where the tip jar is, so you can flip a dollar or two into it? Or maybe you're hard up for cash at the moment, but still want to show some love? Heck, maybe you're a blogger or podcaster who's looking for their next subject, and Zombie Ranch might fit the bill?
Well are you ever in the right place! Let this page be your handy dandy guide to any and all supportive activities you might be inclined to help us out with.
#1: VOTING
On the left side of our site are several graphical buttons representing a selection of comic listings from around the web. TopWebComics is by far the biggest at this time, but some of the others also have a ranking system which you can affect by the simple expedient of clicking the links, which are repeated below for your convenience.
Remember that most of these sites accept a vote every day, and it's entirely legal and encouraged for you to do so! If you wanted to be really sneaky and efficient, you could even bookmark some of the links above for future use.
Voting may not seem like much, but many fans of Zombie Ranch like yourselves originally found us through listings like the above, and the further up on the lists we are, the more likely we are to be spotted on a random browsing.
By the way, if you yourself run a ranking site and are looking for more comics to be a part of your listings, please do Contact Us about it!
#2: LINKING
If you'd like to link to our site, please feel free to grab one of our banners and re-post it with a link to http://www.zombieranchcomic.com. For that matter, if you're interested in a possible link exchange, Contact Us and let us know! You can get all manner of purty Zombie Ranch banners from our Links page, or help yourself to a smattering right here.
#3: WE WOULD BE HONORED IF YOU WOULD JOIN US
Yes, feel free to read that line out loud in your best Darth Vader impression. The point is, Zombie Ranch has a presence on both Facebook and Twitter, and we do make announcements through them. So if you want, please do join up!
FOLLOW ZOMBIE RANCH ON FACEBOOK:

FOLLOW ZOMBIE RANCH ON TWITTER:

Also, in the center of the navigation for each new comic posting is a big ol' "Share" button you can click on, and then click on any one of a number of popular social services you might want to, well, share that comic with. It should link to any existing account(s) you have, so try it out!
#4: WE WOULD ALSO BE HONORED IF YOU WOULD REVIEW US
The Darth Vader impression doesn't work quite as well here, but we're not going to stop you. Seriously, though, if you'd like to review, or even just talk about Zombie Ranch for your blog, site, or other medium of distribution, please feel free. The only thing we'd ask is that we'd love to know about it, so drop us a line at our Contact page.
#5: DONATIONS & PURCHASES

And here's the aforementioned tip jar, courtesy of PayPal. There's no minimum amount, and anything you feel like giving is appreciated, and helps us keep Zombie Ranch rollin' along. Even if it's just a dollar or two, that can still go a ways towards offsetting such necessities as hosting costs, or buying us that much needed caffeinated soda for a convention.
Or, if you're pondering tossing some cash our way but would like something more tangible in return than pure gratitude, check out our various Store options! You can get an art print, a t-shirt, or even your very own copy of our print version of Zombie Ranch #1.
#6: JUST PLAIN LOVE
It's what the world needs, right? Well, in any case, webcomics and their creators thrive on it. If you like the latest comic, comment on it to say so! Or if you'd rather gush privately, you can use our contact form to give us a thumbs up. Seriously, you wouldn't believe how much of a pick-me-up a simple "This is great, keep it up!" can be.
Beyond that, tell your friends and neighbors about us. Spread the word. Maybe they like us, maybe they don't, but just like your parents said about that stuff on your plate at the dinner table, they'll never know unless they have a taste. If they don't like Zombie Ranch, they weren't really your friends anyhow, were they?
Just kidding. We're nowhere near far along enough to be a proper cult. Yet.
And hey, even if all you wanna do is relax and be entertained with an ongoing story every week? Well, that's good enough for us, pardner. Thanks for reading!
— Clint and Dawn