on
April 1, 2015
at
12:01 am
FANTASTIC NEWS!
We couldn't say anything until now due to non-disclosure agreements, but Jim Henson Studios contacted us several months ago and we just finished final negotiations for bringing a Zombie Ranch television show to screens across America (and beyond!). There were some mandated character redesigns as you can see by the above promotional illustration, and we did have to basically sign over all creative control, but we're confident it will be…
CLINT: Ahem. Okay, let's not belabor this, even if we did warn you last week. Today is April 1st in the States, a.k.a. April Fool's Day. Dawn felt like taking a break from Kickstarter illustrations in order to draw muppets, so we came up with the above. There is no deal with Jim Henson Studios, and (thankfully) we have not signed over our rights to any outside party. Enough foolishness. Everything below Sam the Eagle's glowering disapproval of this frivolity will be true news.
This weekend is WonderCon Anaheim 2015, and we will once again be there in the Small Press area, SP-68 to be precise, as Lab Reject Studios. Behold the handy map. Click to enlarge it.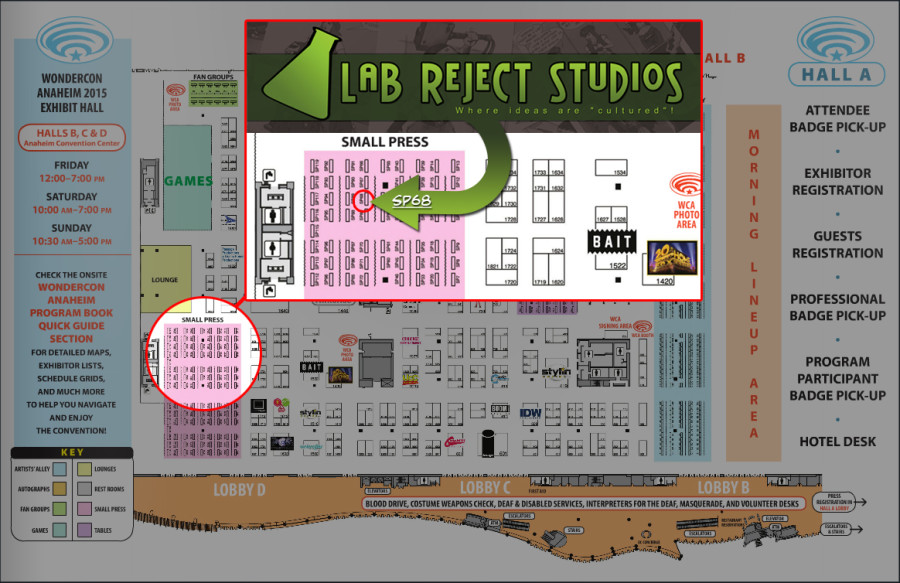 As for the Kickstarter, preparation continues and we're now looking at a post-WonderCon launch date, maybe coinciding with our Wednesday April 8th update where in any case you'll be getting the first look at Dawn's brand new proposed cover design for the collected volume. It's coming along pretty sweet so far. Oh, and we've set up a MailChimp account, so now instead of clunkily using our contact form to ask to be put on the announcements list, you can fill this out instead and be added automatically! In any case, stay tuned!